While spending time in Rotorua, we determined that we'd bite the bullet and purchase tickets for our family of 7 to visit the Tamaki Maori Village. With prices for adults at $120 and kids ranging from $25-$99, it was a spendy treat for our family to commit to this tour at full price! The tour price includes pickup downtown and transportation to the village outside of town (about 20+ minutes), however, since we had our transportation and didn't want to transfer kids and carseats unnecessarily, we consulted with the office and learned we could simply meet them at the village. Unfortunately, what we didn't realize at that point was that the tour experience starts at the pickup downtown, and is counted in the tour time. The 3 1/2 hour tour includes the 40+ minutes of transportation, so our tour was cut much shorter by meeting them at the village.
Upon arriving at the Village at the same time as the buses, we were all coaxed inside to wait at the entrance for a presentation that quickly started with the performers/Maori Warriors rowing themselves to the front entrance.
The chief came out and greeted the selected "chiefs" from our tour group in the traditional Maori way (clearly, the tour's "chiefs" must have been selected on the buses…but…as mentioned…we missed that!)
The warriors welcomed us with a fabulous ceremony. We were told not to smile or laugh during this portion—as it was very serious.
The warriors strutted their stuff to our chiefs!
Would you mess with this guy?
After that was complete, they ushered us through the village gates and into the wooded village. Sunny hot day? No problem–you're well-shaded in the village!
The village consists of various little huts all within a short distance from each other. They broke us all into smaller groups, and cycled us through the various huts/stations where they explained various parts of Maori culture. Volunteers were often selected to learn or participate in various activities, and I was selected to learn how to use a poi. Pois are essentially a fluffy ball on a tasseled rope that is used for dancing or performance. Not as easy as it looks!
Jared learned how to do a bit of the haka 🙂
One station showed us village games. This one players each holding an upright stick, and then letting it go and getting to the other person's stick before it falls! The group starts larger and keeps dwindling down to the last man standing.
Ella was selected to run through a horizontal ladder that was laid on the ground—you have to go fast, and it's hard to keep your footing!
Not all stations were interactive. For example, at some we were taught about the meaning of the Maori tattoos, and another we were told about traditional Maori crafts.
The staff was great about offering photo opps for visitors!
Next, we were brought into a small outdoor theater where staff explained and demonstrated the traditional Hāngi method of cooking using heated stones buried in a pit oven. Baskets of food are put on top of the heated stones and they are covered for several hours before being lifted out.
While our dinner buffet was being prepared, we were taken into an indoor theater where the performers did a beautiful cultural performance of song and dance.
The harmonized singing really was lovely (and that's coming from a singing snob)!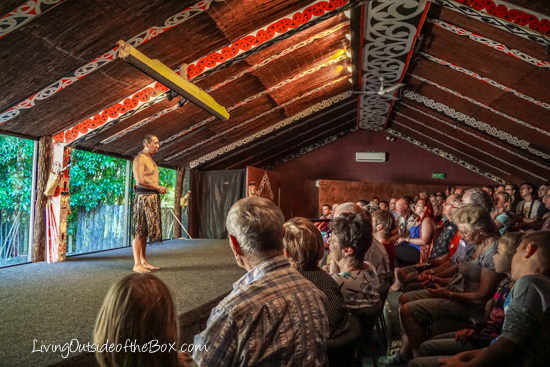 Lastly, we were taken to a large dining hall where tables were excused a few at a time to go through the buffet line. Dinner was the New Zealand standard—steamed veggies (potatoes, carrots, kumara/NZ sweet potato), with simple meats and a little side of gravy. My kids were thrilled that the dinner was topped off with a nice serving of pavlova, which is now their preferred dessert (which we haven't had since leaving NZ…booo hooo)!!!  Pavlova is a meringue-based dessert with a crisp crust and soft, light inside. It's usually topped with some sweetened cream and various fruits. It's is DELICIOUS, and there's really nothing like it on the other side of the globe!!! 🙂
Overall, Tamaki Maori Village was a very memorable experience and we're glad we did it! While we were admittedly disappointed that that the tour was significantly shorter than we thought it would be, we understand that few tourists would opt to meet at the village, and so it's unlikely that most others will have that same experience. It is our own fault that we shorted ourselves by insisting on doing the tour in a way that was more convenient for our family!
I felt this was a great way to get a more hands-on feel for the Maori culture, and it helped to round out our cultural experience an in New Zealand!
\