We were excited to visit Rainbow Springs, a 22 acre nature park in Rotorua, New Zealand in mid February. It is home to New Zealand's largest and most successful kiwi conservation center, where they have released over 1,000 kiwi into the wild since 1995.
Upon arriving, we booked a Kiwi Encounter, which was a special tour that took us through their conservation center to show us the impressive behind-the-scenes work that is occurring each day at Rainbow Springs. It was interesting to learn how they receive kiwi eggs from 15 different sanctuaries and reserves around the North Island, which they then inspect, incubate (70+ days), and monitor during the hatching process. The work doesn't stop there–they then raise the kiwi until they are 1kg in weight, at which time they release them back in the wild.
Why do they do this?
The Kiwi population is halving approximately every 10 years. I was shocked to learn that the survival rate statistics for kiwis in the wild are absolutely dismal! By some accounts, 95% of kiwi die before reaching breeding age! This conservation work helps protect the kiwi when they are in their most vulnerable life stages, and successfully reintroduces them into the wild at a time when they have much better chances for survival. Their program aims to slow, if not help to reverse the kiwi population decline. Besides seeing real-life kiwi (babies included–so cute!), we found the tour guide to be very knowledgable, and we learned a great deal.
Photos aren't allowed in this conservation area, which allowed us to simply listen, learn and enjoy the experience. It's important to note that admission to the Kiwi Encounter Behind the Scenes tour is applied as a 100% donation to the National Kiwi Trust–so you can feel great about knowing that your money is going to a good cause.
After our Kiwi Experience, we entered the park via the colorful bird cages, and our kids immediately got lost in the large playground, which featured a "flying foxes" (the NZ name for zipline!):
Our kids adore the large basket swings that are common in New Zealand (much better than tire swings! What is the name of these baskets?!):
Next to the park is a cafe with plentiful seating, so you can relax while your kids play. Also nearby is The Big Splash, New Zealand's newest themed water ride. You take a calm boat ride through a "Jurassic" forest, and at the end there is a great splash! We attended the park on a quiet day, so our kids were able to do the ride over and over.
There are many beautiful birds in enclosures, and there's a daily free-flight bird show that starts at 11:30am (there's an extra afternoon show during school holidays only). Make sure to time your visit and not be late, because the doors will close (we learned this the hard way–too much time spent at the playground)!
There are other Wildlife Encounters you can plan your visit around, such as the Eel Feeding or Tuatara Talk. We were able to hear a presentation from a staff member, as well as ask many questions before they fed the Tuatara:
You can purchase bags of food, and feed the beautiful varieties of trout that are happily swimming in the clear spring-fed water of the park. Our kids enjoyed the underwater viewing area to see the trout.
The various park attractions weren't widely spread out, so our kids never tired of walking, and Jared and I admired the beautiful walkways and amazing foliage.  I enjoyed reading the plant placards to try to learn which plants were which–it was as much garden, as it was a wildlife park!
It was great to be a place that was so stroller-friendly that even our 5 year old helped out with some pushing!
Remember how I mentioned their water is spring-fed? It's so clean that they encourage you to take a drink or fill up your bottles during your visit!
The grounds were absolutely beautiful and well-cared for. I probably spent just as much time looking at the various trees and plants, as I did the wildlife!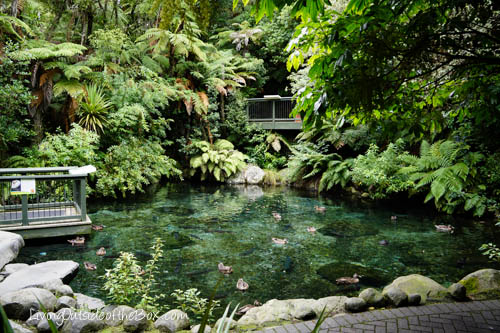 In all, our kids really enjoyed our visit to Rainbow Springs. The highlights? "Everything!" they said. But when we pressed them to specify, they admitted they especially loved the playground (of course!) and The Big Splash ride.
Jared and I were very pleased with the Kiwi Encounter, and would highly recommend that you spend the extra money to have that experience. It was very informative, and we learned so much more about Kiwi and their conservation than at other Kiwi-oriented centers we have visited. If you want to see Kiwi in New Zealand–this is the place!
In all, we thank Rainbow Springs for sponsoring our visit, and we think that other families like ours will highly enjoy a visit, as we did!