On a recent jaunt to Orlando, I was willing to consider any park in the Orlando area to take my family of 7. Should we go to Disney? Universal Studios? Islands of Adventure? Legoland? I would guess that hundreds of thousands of other individuals are facing the same decisions each day as they plan and prepare for their vacations.
The truth is that none of those parks really hold much appeal to me. It's a well-known fact in my extended family that I am not a fan of amusement parks. I like the idea of them, but the truth is that I really, really don't like them.
Are there any alternatives to the massive lines and sky-high admission prices? Is there anything that meshes education with entertainment?  I scoured the lists of available activities on Trip Advisor, and was intrigued when I stumbled upon Gatorland, which was ranked as the #5 Outdoor Experience available in Orlando (with 3,400 reviews and an average of 4.5 out of 5 stars). That was enough to get me to stop and read up.
"Gatorland provides affordable family fun while showcasing thousands of alligators and crocodiles including four extremely rare leucistic "white" alligators. The free-flight aviary, petting zoo, one of a kind animal shows, natural alligator breeding marsh, and the "thrilling" Screamin' Gator Zip Line will ensure your day will be filled with Fun, Smiles and Special Memories!" 
That was it–we just had to visit. After all…what screams Florida more than alligators?!  It was a memory we had to make!
Instead of just visiting the park ($26.99/adult, $18.99/child), we opted to book our family for the "Screamin' Gator Zip Line" at 1:30pm ($69.99/ea), which also gave us entry to the Gatorland park for the day. We're often late to check out of hotels, and unfortunately we didn't arrive until our necessary zipline check-in time, 30 minutes early.  We rushed right past all the gators and suited up in preparation for our zip line adventure. My parents graciously agreed to watch our 7 month old and 2 year old (as a side note: When I told my parents that I was interested in going to a place called Gatorland, they exclaimed "We've been there years ago! We loved it! If you go, we'll go again, with you!"), and my Dad took photos from below. We also purchased a CD of about 90 photos that they took of our family from the towers–providing far better photos than anyone can take from below.
The very professional and knowledgeable Gatorland Zip line staff helped suit up our kids–ages 10, 8 and 5–as well as Jared and me, and we made our way to the first of 5 towers.
Ella (10) is our ever-daring child, and volunteered to be first in our family. She's never shied away from adventures–after all, she's the one that begged us to let her bungee jump in Thailand when she was only 7).
Maiya happily followed in her footsteps, and Ethan elected to go tandem with Jared. Super cute, if you ask me 🙂
And off we jumped! What's more natural than jumping off the side of a tower? Ha!
It was fun to look out from the towers and see the gators below, knowing that in moments we'd be flying overhead!
The zip lining itself took a bit over an hour, as we went from tower to tower throughout the park. There was a suspension bridge near the end that was fun, as well as a final *racing* stretch where you could go at the same time as another person.
The price to enter the park is so minimal compared to the $100-$200/day fees at some of the nearby amusement parks, therefore it doesn't seem like a big stretch to go the extra mile and do the zip line package.
But remember–the zip line is only one part of it! We then raced around to see and experience as much with the gators before the park closed at 5pm.
The 110 acre sprawling park has various ponds and swamp areas where crocodiles and alligators get to lounge all day (see the gators on the center island?).
Walking trails connect the different viewing areas, but your legs won't kill you at the end of the day–all the attractions are fairly close together!
There are 3 shows that have a revolving schedule throughout the day (Gator Wrestlin' Show, Gator Jumparoo and Up Close Encounters). We were only able to catch 2 of them in our limited time before the park closed.
My parents paid a little extra ($10) for a "Rookie Wrestling" experience that allows individuals a photo op before or after the "Gator Wrestlin' Show". Both my girls were eager to do this, but there was only one spot available via an extra ticket my Mom didn't use. Maiya had the opportunity to get up close and personal with a gator!
My Dad was born to wrestle gators, apparently! 🙂
The show was entertaining–albeit a bit corny (they're not afraid to laugh at themselves, which is actually quite nice!). A staff member "wrestled" the gator and did some tricks such as resting their head on the top of their snout while the gator slowly opened its mouth and then snapped it closed again. It was hard to take photos, due to the placement of the safety rail. The show was short and sweet–maybe 15 minutes or so.
Eli contemplated his future of gator wrestlin' in the South…
My parents had also paid for the extra opportunity to feed the gators. You're not allowed to bring in outside foods, but they purchased a feeding pass which allotted them some hot dogs to feed to any gator in the park. They kindly let the kiddos help them!
This gator patiently waited for some hotdogs which we fed him from the safety of our walkway.
Birds on gator's backs never cease to entertain me!
In general, the park is a great place for bird-watchers, as well! We saw so many creatures—certainly not the kinds we see in Oregon!
We also saw "Pops", an old-timer gator that is nearly as old as Gatorland, which opened 65 years ago! He is the star of "Lake Placid" as well as other movies/shows, and is extremely tame after having been brought up in the park.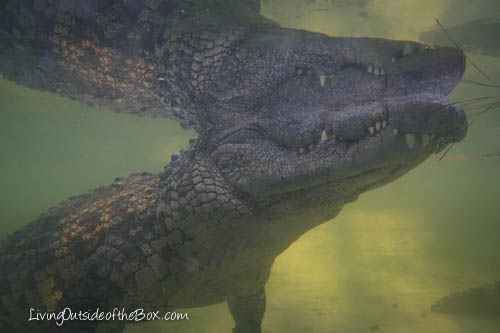 I enjoyed some glass viewing areas to see the gators from below. That's not a common perspective!
The enclosures were well-done, with a comfortable distance between viewing and gators. I wasn't nervous letting my 2 year old run around with me trailing behind, not always within an arm's reach.
He LOVED the gators!
We were also happy that we didn't miss the "Gator Jumparoo" show, which consisted of 3 grown men acting a bit silly in a comedy stint where they hung fresh meat from hooks and moved them across the feeding pond in order to get the gators to jump up to feed and give everyone a show.
They also fed them directly off the side of the little walkways.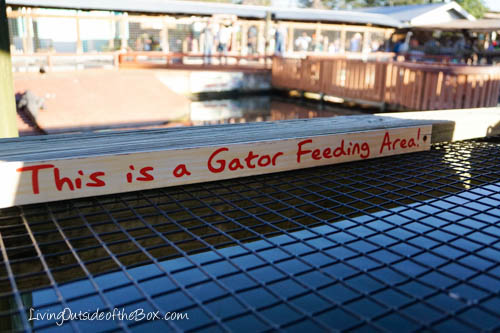 Next, a few of our kiddos jumped on the train with their Nana and Papa, while others went and saw a Cougar, which was in one of the absolutely most gorgeous enclosures I've ever seen. Cougar and gators? I'm not sure how those fit-but I won't complain.
The park also boasts a splash pad, but since it was a chilly day and we didn't bring in the kids suits or towels, we avoided that area and ushered them to the small playground, instead. However–definitely prepare with some suits and towels if you're attending in the heat!
Having arrived at 1 and done zip lining first, we discovered that we hadn't left ourselves time to view all of the educational material throughout the park–which was a disappointment! Don't skimp on your time here–your kids will love it, as there is so much to learn and absorb!
Gatorland has a great sense of humor. It doesn't take itself too seriously–and you won't find a boring old man giving a presentation that will put your kids to sleep. Instead, you'll get some younger men and women who poke fun at Southern stereotypes and present info in a way that feels so natural that you won't even realize that you're learning.
In general, I think your kids will likely look like ours at the end of the day:
I'm grateful that Gatorland sponsored our family's visit, and I'm thankful that my parents happily purchased tickets to revisit the unique and unusual experience of Gatorland with us!
Does Gatorland beat the big parks? In our opinion…YES. Certainly some people prefer big crowds, long lines, and a general assault on the senses. Not me! Not us!  This was much more our style, and we hope it's yours, too!