On Day 11 of our South Pacific Repositioning Cruise we arrived in Apia, Samoa.
It was a beautiful day and we decided to hit the town!
We walked off the ship and immediately found eager taxi drivers awaiting our business. We were hoping for a killer deal, but quickly found they were quoting fairly high prices to take us on a tour of the island. We agreed upon $110 with one taxi driver, and while he ran off to get his vehicle another came up and tried to steal his business by offering it for $100. Since he didn't undercut him by much, we realized he must be in the right ballpark and we stuck with our original commitment.
We started by driving through town and looking at all of the local sights.
We were excited when we drove right by the LDS temple!  There are over 70,000 members of the church in Samoa.
Beautiful day, huh?
And just for some location context, another photo of a motorbike passing by…
Our taxi driver also toured us around a ton of large sports complexes. The Samoans are very athletic—and apparently it is a big enough part of their life that the taxi driver probably spent a good 20 minutes just showing us various sports venues!
Next, we started driving east of Apia (the major city) into the smaller villages. We viewed hundreds of open-air homes and came to the conclusion that the accommodations were pretty simple. Some "homes" looked completely empty (although the driver said people live there), and it looked like they didn't have much seating (chairs at most). Our driver explained that residents sleep on mats on the ground. He also said most homes have an outdoor shower attached to the back of the house.
We drove by many LDS church buildings.
Not sure what denomination this church belonged to…but it looked pretty cool!
We had asked to see a waterfall, and so the driver took us to see the small Falefa Waterfall.
If we had parked across the street and walked down these many stairs to get a view of the waterfall, we would have paid a small fee (~$2.50 USD). However, we just pulled the roadside, took some photos, and continued on our way.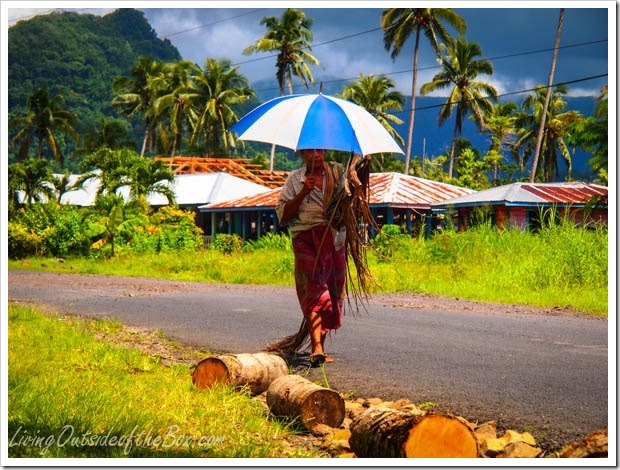 As we drove further around the island, we began to head inland and gain a lot of elevation. It was a beautiful sight! Photos don't do the it justice!
After another long stretch of road we came across the Fuipisia Falls. We were greeted by a man in front weaving a basket.
Also, the owner/caretaker was literally taking a shower out in the open from a spurting faucet. He quickly cleaned up and came to our service.
To view the waterfall, adults pay $10 tālā (kids are $2-$5). A Samoan tālā is about twice the value of USD.
We started a 10 minute walk through nicely manicured trails. Apparently some tour buses do visit these falls, but we missed all the crowds.
We finally came across an open field…
And when we peered over the edge we saw the beautiful Fuipisia Falls crashing down in their 180 foot glory into a deep gorge! Absolutely stunning!
Everything was so beautifully landscaped…it was like a Garden of Eden!
After enjoying a brief stay in what Jared declared as the "most beautiful" sight he'd ever seen, we trekked back to the car parked next to the caretaker's (owner's?) home.
We retraced our drive back to the ship, bringing our tour total to 4 hours for $110 USD (plus a generous tip). Not the cheapest…but cheaper than a cruise ship tour, I suppose (and private)!
The sun began to set, and we counted our blessings for having been able to visit such a beautiful island!
Still American Samoa to come, and a long stretch across the empty Pacific to Hawaii!
If you're headed to Samoa, I'd strongly recommend checking out this website about traveling in Samoa—it's a great resource to find about attractions worth visiting, etc. I wish I had done my homework before we arrived!