I've posted about Spain in random order…trying to be "up-to-date" while still catching up on old posts. I have skipped a month prior to Spain, when were were in Austria, Switzerland and Germany…but those posts are coming soon, too!
So…jumping back in time…as I've mentioned before, in October we drove the Western Coast of Spain from Barcelona down until we reached Marbella, in Southern Spain. This included stops in the beautiful Medieval village of Santa Pau, then the beach towns of Benidorm/Altea to visit with some other traveling families, as well another pit stop before reaching Marbella.
Spain gave us the opportunity to try some new fruits I've never tasted before—including persimmons (kaki) and cherimoyas. I didn't care for cherimoyas too much…but perhaps it was because I had high hopes, thinking they looked and would taste like Mexico's amazing guanabanas! We also ran across some mini pineapples. Too much work for so little fruit—I stuck to the big ones!
We stopped at an inexpensive hotel in Almuñécar, and found the yummiest Chinese food we have had in ages!
From Malaga and further South, this is what many of the Southern Spain beach cities look like…big white condominiums:
After a brief (brief) morning workout, we were on our way again!
We arrived near Marbella and found a hotel/condo for under 60 Euros per night (pretty rare in these parts)! The weather was still cold and rainy, but fortunately they had a covered/heated pool!  We got to enjoy that for 2 nights as we searched anxiously for a rental.
We finally found an affordable rental which we booked for 3 weeks in Elviria on Homeaway.com. It is owned by a British couple who travels to Southern Spain often. They gave it to us for a lot less than the normal rate—seeing how the off-season was just beginning. It had a great outdoor balcony which we enjoyed for a few days.
Then the rains began! And they never stopped! Good thing we had such a wonderful indoor space, as we pondered the idea that less is more, even when traveling.
We explored a little of the Elviria area, and found the expensive tourist grocery stores, as well as the not-so-tourist groceries stores that were much cheaper! This place is overrun by British and Scandinavians—LITERALLY. Meeting an actual Spaniard was hard to come by.
Restaurant menus are in multiple languages, as are many street signs and billboards. This was a bank sign I found a tad humorous: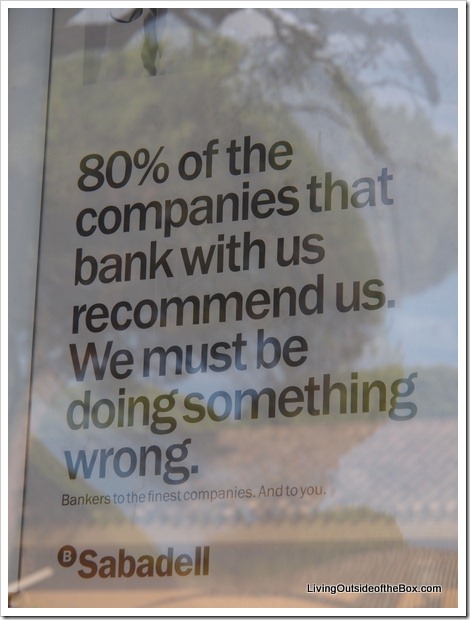 One thing I LOVED about Southern Spain is the abundance of GREAT public playgrounds!
We enjoyed them while we could…but as I said, our sunny days were very few and far between!  We also insisted on finding a rental with a pool, and the kids were able to enjoy it for a total of about 3 minutes before deciding the water was too cold. :: sigh ::
At least they had the awesome playgrounds scattered everywhere!
The grocery stores have all types of foods…and we were so excited to find our Mexican staple–Valentina chili sauce (ideal for cucumbers or potato chips, doused in fresh lime juice! Yes—it's funny the tastes we picked up from Mexico!)
I've mentioned what we did for Halloween in Spain, which left no time for pumpkin carving. So a few days after Halloween we finally cut into the two pumpkins we had secured from the local grocery store (I saw them once—and never again!). One became the kid's design project…
Jared cut under their very clear direction (and yes, Ethan often sits on the table like this. Can you imagine squatting for hours on end?!)!
As it turns out, Ella had drawn out the face upside down, so that after cutting it they finally realized the opening was on the bottom. Oh well…the "lid" made a cute hat, instead!  The girls were so proud of their barfing pumpkin!
We kept the pumpkin on the kitchen table for a few days…until it literally moded overnight and the next day collapsed into a pile of water!  Whoa!
The other pumpkin was for eating only—and became a batch of yummy soft pumpkin cookies. I didn't have all of the spices on hand…but after throwing in some essentials oils in their place (clove and cinnamon), it turned out great!
The apartment we rented had 2 bedrooms, and is in a newly-built subdivision up some winding mountain/hilled roads in Elviria (close to Marbella). Sadly, we were told that just 6 weeks prior to our visit there was a forest fire, which wiped out most of the woods in our area, not to mention several homes. The fields were pretty black when we arrived, but after 2+ weeks of raining, it was almost beautiful to see the contrast of blackened trees and branches with green buds popping up!
Sadly, we didn't do much in Spain. The rain didn't inspire us…and we were worn out. I wrote recently that Spain finally did pleasantly surprise us in stunning Ronda, and then we had the opportunity of meeting up with my Aunt in beautiful Arcos de la Frontera (I hadn't seen her in 16 years!).
3 weeks were gone before we knew it, and so we started our long drive back to Germany by skipping past Gibraltar. We would have loved to see it—in the sunshine!
Instead we settled on a drive-through view of Cadiz:
With roads so narrow through the old town that you had to be careful not to run over people on the "sidewalks"!
Cadiz is located on somewhat of a peninsula with ocean on both sides. Quite stunning, really, and it would be fun to spend a bit more time there!  The beaches also looked pretty nice (for the summer months)!
Next up we drove through Seville, Spain…which also looked like a fun place to spend some time. Add that to the list!
We happened to run across a campground just as it became dark, and were encouraged by their sign that advertised bungalows for rent. Sure enough, Camping Caceres was a perfect place to stay the night!  For $60 Euros we had a private bungalow with a separate room from the main area (where the girls had two single beds), as well as a full fridge, small kitchen, and small flat screen TV.
We enjoyed a not-so-cheap dinner in their restaurant. For about 7 Euros (nearly $10 USD) I got this plate of asparagus. Indeed, asparagus turned out to be my best friend when ordering food in Spain…and this garlic-infused meal pleased me just fine!
After dinner the friendly receptionist pointed us to an area that had a surprise for us—a huge ball arena for the kids!  We stood there freezing in the cold while they played for 20 minutes or so, and then we finally exclaimed, "time to go!"
"But where's my shoe?" cried Maiya.
:: sigh ::
The next 15 minutes were spent with us all (adults included) digging through the balls, looking for Maiya's shoe that had flipped off and sunk to the bottom. It was awesome. We also found a few other surprises that other kids had left behind…nothing scary!
We noticed that the property has a MASSIVE (Olympic-sized, it looks like!) pool, as well as some smaller kid's pools. They also have a ping pong table, 2 restaurants in total, a large field for games, a large playground, and endless sites for pulling in with your camper or tents. This place could be a LOT of fun in the summer. If returning, I would plan a lot more time here to stop and relax and let the kids run wild!
We went back to our room, and soon-after discovered an important secret about our Eagle Creek rolling backpacks…
They can fit a 2 year old!
And a nearly-5 year old…
And, if necessary, they can even fit a 7 1/2 year old.
Just in case…
The next day was our last hurrah in Spain. We planned to make a drive-through tour of Bilbao, but skipped it at the last minute when fog settled in with rain, and so we made a turn towards San Sebastian, instead.
San Sebastian was a WOW. It is a deceivingly large city with AWESOME architecture, a stunning location on a ocean cove, and gorgeous beaches that go and go and go!  Jared announced that it is probably one of his favorite cities he's seen in Europe so far!
We wished the weather was better, and we could stay and explore. Also, we loved the idea of staying in the city, but realized that parking was going to be an issue. So, we instead opted for a quick drive-through tour while the sun went down.
San Sebastian…we will be BACK for you!
If/when we do Spain again…
We will skip the whole Eastern and most of the Southern Coast. Barcelona looked like a lot of fun, and I wish we hadn't driven through there in the middle of a MASSIVE downpour (wow—what luck we've had in Spain, huh?!). Their famous chapel in the center of town looked INCREDIBLE!!!
Other than that…that side of Spain didn't hold much interest for us until we reached the Marbella area…which was slightly greener and prettier…but WAY too overrun with tourists for my taste. We would have loved to see Gibraltar (we could see it in the distance from where we stayed), and Ronda and Arcos de la Frontera were awesome. Cadiz would be fun to return to, as would be Seville…and we'd still love to see Bilbao and San Sebastian.
And if we're headed to that side of Spain…you can bet our end destination will be Portugal!
And most importantly…next time we'll come in the summer…when every day can be enjoyed outdoors!