We drove straight from Colima to the coast, searching for the nearest beach. We ended up in Ayuntamiento Tecoman, which had a lovely stretch of nearly deserted beach.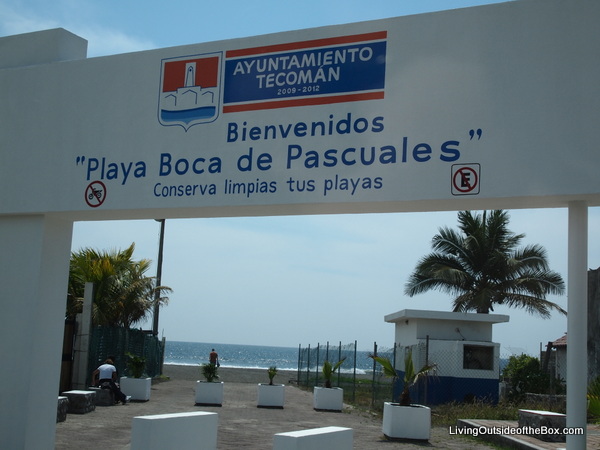 A small sand road was lined with little restaurant shacks with a lot of seating—it must be popular on the weekends.
Further south, we were surprised to find a fairly newly built malecon, seemingly in the middle of nowhere.
Yet further down Highway 200, we finally came across a section of the highway that is lined with restaurant after restaurant on the beach. Unlike the last little stop that had only shacks, these were well-established and clean restaurants. Probably 30% of the restaurants featured slides and other water entertainment for families. It looked like an ideal place to take children.
With not too many daylight hours left, we started booking it south on the highway that runs parallel to the Pacific coast. We passed banana plantations that boasted of bananas covered on plastic bags. I had to wonder why they would be covered in plastic (to keep the bugs off?)…
but when the road turned to dirt, I was grateful that the bananas were kept clean!
We also passed a chicken farm, where the chickens had leashes keeping them close to their little huts.  This sure looks more humane than most chicken coops.
(p.s. a reader emailed me and pointed out that they are roosters…why YES, they ARE!  And he also suggested that these may be roosters used for cock fights. Hmm…not as humane as I thought, perhaps?)
Every once in awhile the road would reach a high point and a short break in the trees would allow us to overlook the beautiful coast line.
Little roadside worship chapels (I don't know what to call them…chapelitas?  They're small and perhaps allow room for one person in front of them) deck the roadside on occasion. They are common throughout Mexico. I believe they are constructed by families or friends who have lost a loved one in that location, due to a traffic accident. Indeed, my children often point out "some died there, and there, and there, and there… "
It is best to stay alert while driving, as you never know when a wandering herd might be crossing the road.
Or even better…a critter that might make your skin crawl. Can you tell what this is?
After passing a couple of these, Jared turned us around so we could all have a better look. It had a close call with an oncoming truck, and we wondered…"Why did the tarantula cross the road?"
As the sun began to set, we realized we were not going to make it as far as we had hoped. We found another little mini beach "town" that was really just a number of hotels and some beachside rentals. Nexpa, Mexico is an isolated surfing retreat.
The beachside rentals were literally shacks made of wood (you could see through the cracks), but others were of concrete and of very basic construction.  After turning down a few possibilities, we were offered a 3 bed place with a little kitchenette. The chairs needed scrubbing about 10 years ago…
But the kitchen was workable and it came with a few dishes to eat off of. After they spent a little time fixing the stovetop for us, we cooked some food we had brought with us and settled down for the night.
The beds were threadbare…consisting of just a single fitted and top sheet.
No blankets and no towels were offered. In fact, when I asked about hot water, they recommended that I heat up some hot water on the stove to shower with. Hmm…without a bucket, that seemed like a hard order, and we didn't try it out.
In the morning, Ethan awoke early and spent some time peering out the screen-less window. I escaped to take some photos of the rentals that are popular among surfers in this otherwise forgotten beach hideaway.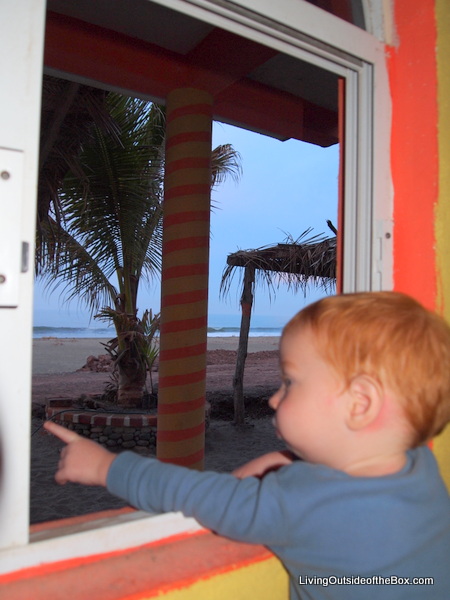 Once the girls were up, we took a walk out to the beach.
I love watching how Ethan interacts with his older sisters. He clearly looks up to them, and let's hope and pray they will be good examples for him over the years!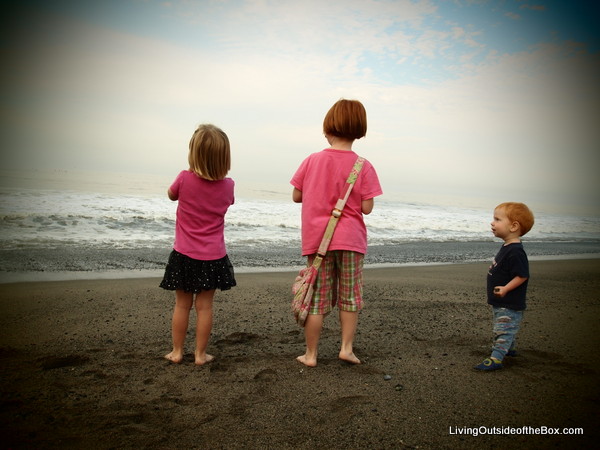 Maiya was directing the waves, I believe…
Don't worry, even a little town that lacks wifi or phones can still offer satellite TV to its residents. Yes, they may live in a shack—but at least they have their TV.
A quick glance at just how informal this "town" was. The largest hotel is straight down the street on the left, and the one dirt road leads to the line of rentals directly on the beach.
Next, we continued on the highway South…which looked like this:
Thank GOODNESS for Essential Oils!  I made myself capsules of Ginger and Peppermint Essential oils (which I took with water), and I managed to reverse all oncoming bouts of motion sickness (of which I am VERY prone).  WOW!! I will not go on a road trip or flight without those again!