One should not visit New Zealand without planning a visit to the famed Glowworm Caves of Waitomo!
We met up with our friends, the Pearce's, who are staying 3 months on the South Island, but had come up North for a passport renewal. We met in Hamilton and then drove to Waitomo in the center of the North Island. This is our 4th country we have met the Pearce's in, and our kids always have such a great time together! 
We booked a tour with Spellbound, a company that operates small tours of up to 12 people–an ideal situation, for a glowworm tour for children! Since every seat we took (carseats included) was a spot filled, we had to pay for even the baby and our 2 year old. However, the reviews online were great, and it didn't disappoint. After meeting in their office, our two families jumped in their larger transport van and they took us on a 20 minute scenic drive to their caves that are on private property. 
We learned that there are hundreds of caves in this region, occurring as a result of water eroding away underlying limestone rock. Due to this erosion, sinkholes dot the landscape and are marked by rings of trees that are planted around their rims to help slow down the rate of erosion. It begs the question…is this erosion all occuring because the natural tree-filled land was cleared for European-style farming? Would it not have happened had there still been trees everywhere that would have slowed erosion? I have so many questions!
We pulled up to the location of their first attraction, a gorgeous dry cave with a paved pathway that they had painstakingly created over several years' efforts.
The cave was filled with stalactites and stalagmites that were beautifully highlighted by a lighting system that was tastefully installed to bring attention to the natural features of the cave, and not the lights. This cave had a small number of glowworms that we could see when the lights were off, but they were not the highlight of this particular cave—it was simply beautiful on its own!
I tried to imagine myself as a land-owner in the area, accidentally stumbling upon a hidden cave on my property! What do some of these land-owners do? They lease out the rights for companies to tour through it, of course!
After treking back out of the dry cave, we enjoyed a refreshment break outside (hot chocolate and cookies) and then walked to their (wet) glowworm cave that was just minutes away. 
It's amazing that this second cave existed so close to the other, because they seemed to have little in common! We donned some safety hats with lights, and headed into the dark cave that had a river running through it.  
Our guide stopped to show us how the glowworms build themselves little silk hammocks from which to hang from the rocks. To catch their food, they build a network of silk threads and cover them with a sticky mucus. These threads are effective in catching flying bugs who are attracted to the worm's glowing lights.  
Our guide pointed out that glowworms are not actual worms, at all–they are actually maggots. But "Maggot Caves" simply doesn't have the same appeal, does it? An interesting, but random fact, is that these glowworms live out their entire lifecycle in the caves, later hatching into flies that have no ability to eat. Their sole purpose is to procreate, and then they die!
Back in the cave, we loaded into a fairly comfortable raft, and our tour guide hand-guided us through the caves by pulling on a rope system hanging above our heads.
It took 10 minutes or so for our eyes to adjust to the darkness, but once they did–it was magic!
Admiring the glowworms overheads was like looking up at a star-filled, glittering sky–except these stars were much closer. In fact, the amount of light from the glowworms was so significant that we could see each other without any additional lighting. 
Capturing a photo of the glowworms while on a moving raft was a near-impossible task, but it didn't stop us from trying. My best attempt: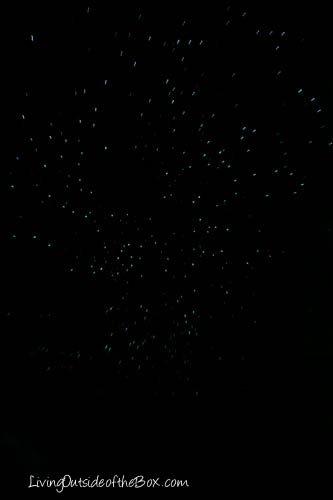 Thankfully, Spellbound Tours is very thoughtful, and emails professional photos of their caves to all of its customers, so that we could have a better photo representation of what we experienced. Their photo:
Here's their photo of what it looked like in the cave:
After completing a trek up and down the cave in the raft in the pitch black, we exited, returned to our van, and zipped back in the van to the tour office.
In all, the tour was about 3 hours, and we felt it was definitely worth our time and money. I had admittedly hesitated to book a tour that included rafting, due to not knowing how our infant, Dawson, would handle being in complete darkness. However, I am happy to say that he did great–and it was a nonissue! Overall, Spellbound was great with the kiddos, and even 2 year old Eli loved the experience! The caves were a highlight that we won't soon forget—and we were grateful for a small tour experience that was more personable and private than other options in the area.